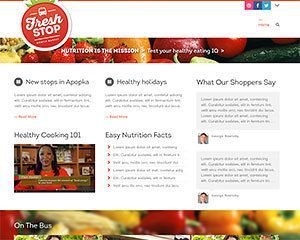 GET THE NEWSLETTER
This is an incredibly exciting time at Fresh Stop! There is so much going on that it can be hard to keep track. If you'd like to know where the bus will be, what the newest stops are and all the other Fresh Stop news, there are several easy ways to keep in touch.
The most convenient is simply to sign up for our email updates and newsletter. You will hear from us only when there is big news, and we'll never spam your inbox. Also, we never sell or share your information with any other group or third party. Period.
To sign up, just type your contact information in the form below. We'll send you a confirmation email within minutes. Once you confirm your email with a click, we'll add you to our list. You can unsubscribe completely at any time.