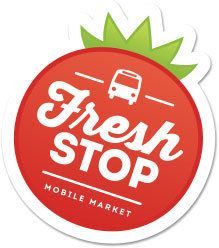 There's an exciting new community program rolling into central Florida! The Fresh Stop mobile market is a re-purposed Lynx bus outfitted with special refrigerated racks for fresh vegetables and fruits. Thanks to outstanding support from donor partners like Florida Hospital and Orange County, the Fresh Stop will visit 16 different food desert neighborhoods in Central Florida every few weeks.
In Central Florida more than 90,000 of our neighbors live in food deserts, areas without easy access to fresh, nutritional foods. Limited food choices often result in poor nutrition as families rely on fast food or processed foods sold by neighborhood convenience stores.
Families are forced to substitute foods usually high in fat, sugar and salt, which in turn leads to increased rates for diabetes, higher blood pressure and other diet related diseases.
As envisioned by Hebni Nutrition Consultants, the Fresh Stop bus is a mobile farmers market created to serve these in-need neighborhoods. The program offers fresh fruits and vegetables in community-centered locations and at budget-friendly prices.